"Mission Yet To Be Updated"
This article is a stub. Please help the Spy versus Spy Wiki by expanding it. Thanks!
White Spy's Hat
is his signature hat that he wears in almost every comic strip (although he has taken it off countless times). It can be used as a booby trap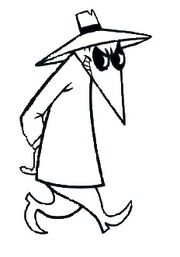 or a lethal weapon.
Ad blocker interference detected!
Wikia is a free-to-use site that makes money from advertising. We have a modified experience for viewers using ad blockers

Wikia is not accessible if you've made further modifications. Remove the custom ad blocker rule(s) and the page will load as expected.